TUFFSKID® Products
TUFFSKID® is a custom industrial skid pump manufacturer specializing in custom built commercial and industrial chemical metering skids. TUFFSKID® delivers where others fall short.
37 WALL MOUNT
Capable of holding a deck load
of up to 300 lbs.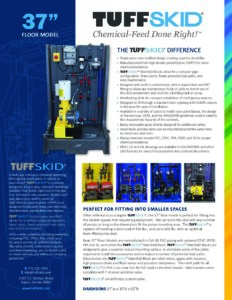 37 FLOOR MODEL
Perfect for fitting into the smaller spaces that require big equipment.
57 FLOOR MODEL
Capable of holding a deck load of
up to 650 lbs.
MICRO SKID
Can be used as a pump skid, or portable self-contained system.
I/P SKID
This system has two names and two uses! Thinnest in the business!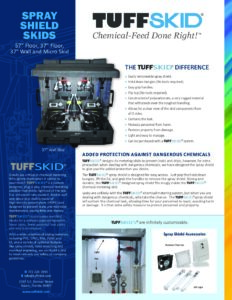 SPRAY SHIELD
Designed for extra precaution when dealing with dangerous chemicals.
Our Services
We specialize in Commercial/Industrial skids.  All our skid mounted chemical dosing systems are available to be fully customized. Contact us for a free quote.

Custom Design Services
TUFFSKID® is the chemical metering skid manufacturer that specializes in custom designed skids to meet your specifications.

Custom Specification Writing
P&ID, 2D and 3D, drawings are available in SOLIDWORKS and other CAD formats for ease of incorporation into contract documents.

Installation & Start Up
Startup services, if required, are available for an additional fee from TUFFSKID®, or through one of our local sales channel Partners.
Chemical Metering System
One of TUFFSKID's® more complex systems designed with the help of SOLIDWORKS.  The bracketing for the VFD's was specially designed and supplied by TUFFSKID® for this system. The skids are connected together using TUFFSKID'S® specially designed roto-molded skid with notches at the base to form one complete system.
.
TUFFSKID® Features
Single piece roto-molded design creating superior durability. Manufactured from high density polyethylene (HDPE) for extra chemical resistance.  Designed with built in containment, with a sloped deck and NPT fitting to allow any maintenance fluids or spills to transit out of the skid containment wall and into a holding tank or sump.
TUFFSKID® Manifold Blocks allow for a compact pipe configuration, fewer joints, fewer potential leak paths, and easy maintenance.
Details are critical in chemical metering
Why ignore them when it comes to your skids? TUFFSKID® is a custom designed, plug n play, chemical metering solution that works right out of the box.
Get Started
TUFFSKID® Chemical-Feed Done Right! ™
Leaks are unlikely with the TUFFSKID® chemical metering system, but when you are dealing with dangerous chemicals, why take the chance.  The TUFFSKID® spray shield will contain the chemical leak, allowing time for your personnel to react.
The TUFFSKID® spray shield is designed for easy access. Strong and durable, the TUFFSKID® designed spray shield fits snugly inside the TUFFSKID® chemical metering skid, protecting the things that matter most.
Available in different sizes.
TUFFSKID's® are infinitely customizable.
Answers to Your Questions
Can I have a skid customized?
Yes. We specialize in custom built commercial and industrial chemical metering skids.
What colors do you offer?
Available in a variety of colors to match your plant layout, the design of the end user, OEM, and the ANSI/ASME guidelines used to identify the characteristic hazards of the contents.
Do you offer special options?
A wide variety of optional features like spray shields, color matching and manifold engraving,  We can build a skid to meet virtually any safety or company guidelines.
Why Choose TuffSkid?
Our enhanced roto molded, double wall one-piece skid shell is made of high-density polyethylene (HDPE) and designed to prevent leaks and minimize maintenance.
What type of piping materials are available?
Piping materials include PVC, CPVC, PFA, PVDF, and SS for proper chemical resistance.
Do you ship outside of the US?
Yes, we ship our products worldwide.